Every provider in the insurance ecosystem needs to make constant intelligent actions at every stage of the insurance life cycle if they are to remain competitive. This requires the translation of multiple complex data sources into meaningful insight so that they can price better, reduce fraud and make quick and informed decisions.
Percayso understands this challenge and, with the recent acquisition of Cazoo Data Services (CDS), is set to further revolutionise the vehicle data sector by providing next generation insurance insight and tools, delivering unrivalled uplift for both insurers, MGAs and brokers, creating a powerful competitive advantage.
Watch now: Announcing Percayso's vehicle data expansion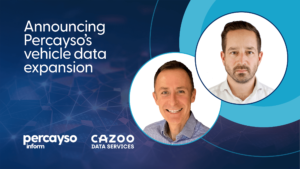 Turn data into knowledge
Percayso's data and intelligence platform ingests and adds value to a vast array of robust datasets to provide next generation insurance intelligence services to insurers, brokers and MGAs in personal and commercial lines. Its technology aggregates data from many different sources, allowing intelligence to be accessed with a simple API call at a significant volume.
Complementing the Percayso data and intelligence platform, CDS provides a wide range of comprehensive vehicle data and intelligence, from vehicle valuations to vehicle specification, provenance data, and MOT history, ADAS specifications and vehicle modifications.
This empowers insurance providers using Percayso's platform to intuitively build, adapt and optimise their own data enrichment rating and intelligence strategies. In addition, the platform and advanced tech allow insurance providers to take control of their own strategies and deployment by enabling rules and models to be used in their environments via a SaaS model.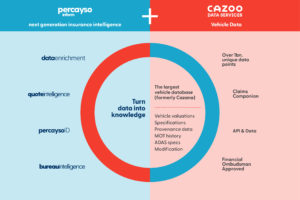 Strategic alignment Percayso and CDS 2023 and beyond
Intelligent data to rely on
The addition of CDS to the Percayso portfolio is significant. It solidifies Percayso's vehicle data capability, allowing valuable data to be delivered quickly and easily so that intelligent decisions can be made. To put this into perspective, CDS aggregates over a billion unique data points from various trusted sources. This information is delivered through two main mechanisms. The first is an API data feed with easy integration and interface. The second is a SaaS user interface primarily used at the claim stage when somebody wants to access a wide variety of information.
"CDS's unrivalled database provides motor insurers with a one-stop-shop, enabling them to truly understand the risk factor of a vehicle, including its likelihood to be involved in a claim. Combining that data with our unique insurance intelligence services will enable insurers to determine potentially fraudulent activity, identify if a risk is right for their business, swiftly respond to changing market conditions and ultimately write better business." – Rich Tomlinson, Managing Director, Percayso, 
CDS offers insurance companies access to the largest vehicle database available, delivering unparalleled levels of information about individual cars, and it is the go-to data source for the Financial Ombudsman Service when settling claims disputes.
Pushing the boundaries of vehicle data
Percayso are already used to quickly processing vast quantities of data – in fact, many millions every day within milliseconds. With a strong track record in innovation, these new vehicle data variables will allow all insurance providers to take full advantage of this next generation intelligent insight, to gain and sustain a competitive advantage.
"We're really excited to integrate CDS into the team as it reinforces our desire and vision to be the best insurance intelligence provider. We believe it will transform the vehicle data market and benefit new and existing Percayso/CDS customers." – David Kelly, Commercial Director, Percayso.
With additional new platform enhancements and new product launches on the horizon, this disruption of data enrichment is just the start of a new era of next generation intelligence services for the insurance industry.
Watch now: CDS snapshot and customer success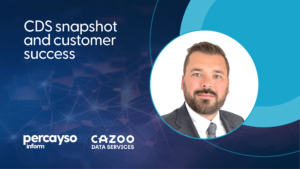 Beyond traditional data enrichment
For both customers and the insurance market, integrating CDS vehicle data into the Percayso platform will unlock further potential by allowing users to gain a pricing advantage and detect potential fraud. 
Pricing, claims, processes and procedures will benefit from the unique methodology and model CDS offers. It uses a live consumption model of mass market data to determine a vehicle's worth, with supporting evidence, at a granular level, presented back in a meaningful way to assist in quick and confident decision-making.
"We have a whole raft of information specific to that car. So, we build what we refer to as a 'Vehicle timeline' which is everything that's ever happened to that vehicle, detailed chronologically from the vehicle's history. So, from the first registration date of that vehicle, the first day of the road, and almost every single thing that's happened to that vehicle throughout its life is detailed."  – Kieran Fisher, Account Director – Vehicle Data Enrichment, Percayso
By looking for additional enrichment above and beyond basic data, it allows data sources to be combined and additional merit and benefit to be found, enabling data delivery in a consumable format.
Summarise and interpret the data
Having data that means something and already interpreted is critical for identifying any red flags about a vehicle. This is where the lifetime vehicle data providing an accurate valuation of a car becomes particularly useful. It details vehicle modifications or pre-existing damage, for example, particularly relevant if that vehicle was ever involved in the claim because that damage was pre-existing, and the data is needed in the underwriting stage of the insurance lifecycle. 
The vehicle data from CDS unlocks a great deal of potential whether the data is being used to price more competitively or if it is being used to look out for fraud flags. Having accurate data allows claims to be settled faster, and fairly, which of course, has operational benefits and cost savings.
Next generation insurance intelligence services 
The team at Percayso are excited by this new era of vehicle intelligence, enhanced by the acquisition of CDS, who together will undoubtedly be looking to continue to improve and revolutionise the insurance vehicle data industry.Find out more about how the addition of CDS to the Percayso platform will truly transform vehicle intelligence for the insurance industry by listening to the replay of our latest announcement videos. Or get in touch with the team today.